A new tool, which uses cutting-edge machine learning techniques and satellite remotely sensed data was launched on 27 April, to predict agricultural yields for nine key crops across Africa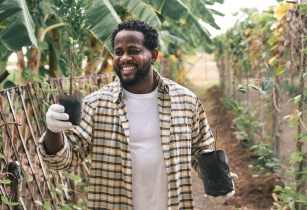 The tool has provided predictions for agricultural yields in 47 African countries. (Image source: Adobe Stock)
The web-based Africa Agriculture Watch (AAgWa) platform combines remote sensing data and machine learning techniques to support informed decision-making in African food production systems. The tool has provided predictions for agricultural yields in 47 African countries, across many of the most important crops for African food production, including maize, cassava, and sorghum, among others. The tool is designed to support farmers, policymakers, and local communities in crisis management, monitoring, and mitigation efforts.
The AAgWa platform was officially launched as the fourth core programme of pan-African non-profit research organisation AKADEMIYA2063 at a virtual event, which highlighted the significant threats posed to Africa's food production systems from climate shocks, global market disruptions, health crises, plant diseases, and pest outbreaks.
This new phase of the AAgWa programme will facilitate the use of emerging technologies like AI and advanced remote sensing by African countries to achieve their development objectives and broader economic growth, including the African Union's (AU) Agenda 2063 and Digital Transformation Strategy for Africa (2020-2030).
Chaired by Muhammadou M.O. Kah, Ambassador Extraordinary and Plenipotentiary of The Gambia to Switzerland and member of the Malabo Montpellier Panel, the event was also attended by high-level researchers and international and regional policymakers. Notable were closing remarks from Ismahane Elouafi, chief scientist, Food and Agriculture Organisation of the United Nations (FAO), emphasising FAO's commitment to the digitalisation of agriculture and the use of innovation to end hunger and improve livelihoods, and comments from Parmesh Shah, global lead for Rural Livelihoods and Agricultural Jobs, World Bank, who provided an overview of AI trends applied in the agricultural sector.
Harnessing the power of emerging technologies will prove vital in improving the productivity and resilience of African food production systems to future shocks. This is particularly vital given that African agricultural yields, on average, remain just one-fifth of yields in the US, even though the population of sub-Saharan Africa is expected to double by 2050.