The Agriculture and Allied Employees Union of Nigeria (AAEUN) and the General Agricultural Workers Union (GAWU) of Ghana have agreed to establish a West African Agricultural Union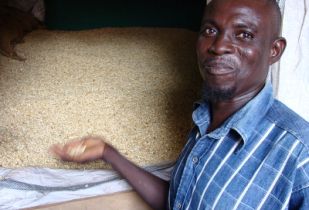 A Ghanaian agribusiness owner. (Image source: Elitre/Wikimedia Commons)
According to BusinessDay, representatives announced in Lagos that the new union would increase food security and protect the sub-region's agricultural workforce.
"It is an urgent call for the sector within the West Africa sub-region to have a common body that will look into the salary structure and field benefits," said Blessing Oladele, general secretary of AAEUN.
"On hazards allowance, the nature of our job in the area of chemical usage and tractor usage, our interests must be protected across the sub region."
Walter Atiako, a representative of the union in Ghana, said that both unions had been collaborating on common issues for the last ten years.
"This is a process, so in a nutshell, it's an exchange programme, we then delve into what they do and we also expose what we do and then as part of it we improve upon the agricultural sector of the sub-region," said Atiako.
"As a matter of urgency, we should have policies that will get us fully secured when it comes to food in the sub-region. So as part of this collaboration, we will be able to influence governmental policies to favour our members.
Atiako also added that Ghana and the Nigeria should not depend solely on oil to prop up the economy as oil reserves will eventually run out.
"We don't need to be importing food. If you look at the Nigerian economy and the weather in Nigeria, there is no reason for Nigeria to import anything," he said.
"They have the land that can produce rice, so why then do we import rice? We are now contributing to the economy of those countries that we import the rice from."
According to the two unionists, the establishment of a regional agricultural union would embrace all countries in the sub-region and improve the welfare of agricultural employees.