Standard Bank has partnered with the University of Free State (UFS) and the Free State Department of Agriculture and Rural Development to contribute towards a more sustainable agricultural sector in South Africa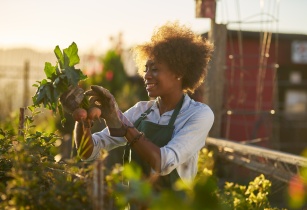 The programme trained 111 black farmers in the Free State between 2019 and 2022, with a success rate of more than 90%. (Image source: Adobe Stock)
The programme leverages existing expertise, skills and infrastructure to support black commercial farmers in the Free State. Since its inception in 2019, a new cohort of farmers has been trained each year in aspects such as animal management, pasture management, feeding, crop production, water and soil management, business training, entrepreneurship and mentorship.
The programme trained 111 black farmers in the Free State between 2019 and 2022, with a success rate of more than 90%. The 2023 cohort, comprising an additional 30 farmers from the Free State and 16 from the Northern Cape, are currently being exposed to the programme. The event will be attended by representatives from Standard Bank, the Free State Department of Agriculture and Rural Development and the University of Free State.
Brendan Jacobs, Standard Bank's head of business in the Free State and Northern Cape, mentioned that the purpose of the programme was to provide black farmers with access to knowledge, funds and markets into a position where their agricultural operations were relevant to all the financial, capital and market mechanisms needed to establish commercial farmers.
"Developing a diversified, inclusive agricultural sector in South Africa that helps all farmers develop the commercial ability to access national and even global agricultural value chains is key to developing a sustainable agricultural sector that not only provides food but is also broadly relevant to all of South Africans," said Jacobs.
According to professor Danie Vermeulen, dean of Natural and Agricultural Sciences at University of Free State, various UFS stakeholders and counterparts played a role in the deliverables of the project. "Modern agriculture is a sophisticated industry requiring farmers to understand and manage production in concert with often dynamic finance, investment, technology and market systems. In this world, commercial ability is as critical to farming success as agricultural know-how, technology and methods," he said.