The World Bank Group, UK-based Department for International Development (DFID) and Nigeria's Dangote Group have formed a partnership to start the production of hybrid tomatoes in Nigeria's Kano state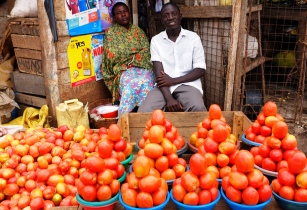 Dangote has provided the farmers with best practices on tomato production and processing in Nigeria. (Image source: Fred Inklaar/Flickr)
According to Dangote Group, the partnership will enable the firm to unlock the full potential of the tomato industry, which will help Nigeria to reduce its heavy dependence on imports and boost agriculture in the country.
Richard Ogundele, intervention manager of DFID, said that the company will improve the primary handling operations, including fresh produce packing house models, returnable plastic crate rental models and expansion of cold chain services for transport and storage.
Abdulhamid Kaita, MD of Dangote Group, noted that the company has began a pilot project at Kadawa area of the state and it will begin the second phase of the project in 2015.
The director also disclosed that the company has organised the farmers into clusters to avoid individual interactions for the benefit of the farmers and the company.
El-Hadj Adama Toure, agriculture economist at World Bank Group, added, "We are confident that this project will increase productivity, boost job creation and grow the economy."