Farmers in the Cambishi region of Zambia are set to receive compensation packages following crop damage caused by sulphur-dioxide emissions from Chinese-owned Chambishi Copper Smelter (CCS)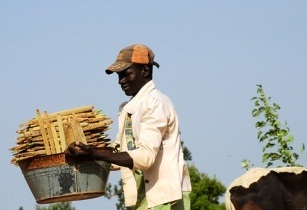 Zambian farmers whose crops were affected by sulphur-dioxide emissions from Chambishi Copper Smelter are set to receive compensation. (Image source: ICRISAT HOPE)
Around 100 farmers in the nearby communities of Chambishi had their crops destroyed by the emissions from the CCS mine, owned by China Nonferrous Metal Mining Group.
"The issue of compensation has been concluded and all the farmers whose crops were destroyed by the mine pollution will start receiving their compensation packages during the course of this week," said Kalulushi District commissioner Kampamba Mulenga.
Mulenga made the remarks when she was giving an update on the issue on 15 April 2013, adding that the mine pollution victims, who have been working with the government will recieve a sum of money this week.
The CCS management had arranged for just under US$2,000 to be paid out in compensation to the affected farmers, according to Mulenga.
A survey conducted on the effect of the pollution by a group experts found that 102 farmers were affected in the region.