The Zambian government has encouraged the country's farmers to adopt seed technology in order to help raise the national average yield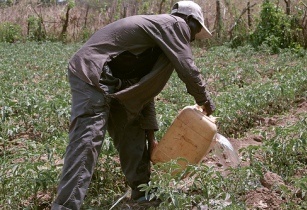 The government has implemented policies such as the national agriculture policy to support investment in agriculture. (Image source: Bread for the World)
Emmanuel Chenda, Zambian minister of agriculture and livestock, said he wanted to see farmers in the country use better quality seeds for increased crop production.
"Advances in the science of breeding and seed technology have to be adopted widely by all farmers in the country so that our national average yield can increase close to five metric tonnes per hectare," Chenda remarked.
"To achieve these desired results, the country requires close collaboration between Government, seed companies, and farmers at large."
The government has implemented policies such as the national agriculture policy to aid investment in agriculture, he added.
"Among us today, we have some of our key stockists and agro-dealers who we have partnered with in this quest to reduce the distance to access seed …to complement Government effort, Seedco has recruited 20 assistance sales agronomists," said Chenda.
Seedco group board chairperson, Bhekimpilo Nkomo, said product advancement is still the foundation of the group's growth revealing that the company has so far released new types of seed soybeans, maize and wheat.