Zimbabwe has been awarded more than US$3mn from the European Union to be used to fund training of agricultural extension workers across the country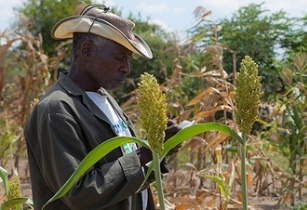 Farmers in Zimbabwe will be trained under the Zimbabwe Extension Support and Training programme for the next three years. (Image source: Swathi_Sridharan)
The country's agriculture, mechanisation and irrigation development permanent secretary, Ngoni Masoka, said that the funds would be used to enhance the skills of Zimbabwe's agricultural extension workers.
The funding would be used to train extension workers under the recently rolled out Zimbabwe Extension Support and Training Programme expected to run for the next three years.
"The major challenge affecting the operations of extension workers throughout the country is lack of resources. Our extension workers do not have transport and latest office ware such as laptops and this has affected service delivery," said Masoka.
According to Ruediger Beherns, German International Cooperation programme co-ordinator, stated that the project would mainly focus on the districts of Chivi, Gutu, Masvingo and Centenary in Mashonaland Central.
"We have US$3.2mn that has been availed by the European Union. The German government has given us US$500,000 for this pilot project," added Beherns.