Dr Chris Owens, IFG's lead plant breeder, speaks with Tulana Nayak from African Farming, about the challenges of fruit breeding and what the future holds.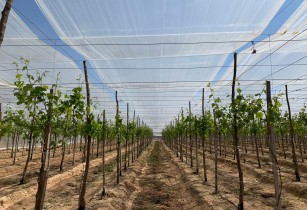 IFG has been monitoring climate change consistently as it impacts how crops grow. (IFG)
What is the future of fruit breeding?
The future of fruit breeding consists of a consumer focus and considering the impact of climate change in agriculture. Climate change has a direct effect on our global food supply. It affects the locations where products can be grown today and in the future, thereby impacting the capacity to meet retailer and wholesaler programmes. Fruits and vegetables respond to warm and cold temperature changes. These changes affect how plants and food grow. Anything that makes significant changes to the environment will have crucial impacts on agriculture. IFG's mission is to create an incredible eating experience by starting with the consumer and working our way backward. Consumers have evolved and become much more educated on the fruit varieties available. They are looking for more options in their eating experiences. Table grapes are no different than potatoes and apples in that they are being sold by their variety names. Not only are they being sold by different names, but consumers also have preferences now.
Shed some light on IFG's upcoming projects in Africa.
IFG is looking forward to continued expansion in the table grape-producing areas of Africa. Currently, IFG is established in licensing in South Africa, Namibia, Egypt and soon to expand into Morocco. Several advanced selections of raisins will be fruiting this season, and we are looking forward to the results. In addition, IFG's cherry varieties are beginning to take off in many regions, so we are excited to see some growth in South Africa.
What are the challenges in fruit breeding. How is IFG tackling them?
It takes about ten years to develop a new grape variety. Once planted, it takes a couple more years to sell the fruit commercially. One of the biggest challenges fruit breeders face is predicting consumer trends ten years down the road. With that in mind, the company constantly follows consumer trends and tries to understand demographics. We have learned that younger consumers are interested in sweet eats, requiring IFG to look at trends in the snacking category. These trends have taught us that there is room for flavoured cherry varieties like 'Cotton Candy' among younger consumers.
Climate change has affected agricultural production to a great deal. How is IFG handling this in Africa?
Due to climate change and recent developments in fruit breeding programmes, the industry is witnessing an increasing growth in regions where certain fruit varieties were not grown in the past, such as in South Africa. Climate change is at the forefront of many conversations in agriculture, which is where IFG's work helps – breeding new varieties of fruit that will grow in warmer clients with more minor water requirements. As the planet undergoes changes, there is a possibility of lesser fruit production. IFG is focused on breeding varieties that ensure consistent cropping in a changing climate.
Are there any worrying trends in the fruit breeding sector currently?
Climate change is something that we monitor consistently. It is a significant challenge, both short and long-term, for the agriculture industry. However, it is an issue that plant breeding can mitigate.
Andy Higgins, IFG's CEO said, "With IFG being the trendsetter in creating fruit that delivers out-of-this-world eating experience, we want to start looking at furthering flavours for the consumer palate. We need to think about the next 10 to 15 years, to foresee what consumers will want. We then communicate our vision and mission to our growers to help us execute it."