Priva and Aranet have partnered to enable integrated wireless technology, aiming to bridge the gap between wireless sensors platforms and other data sources in greenhouses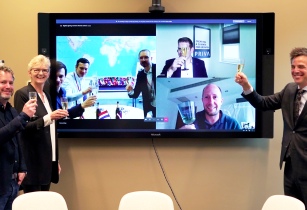 Official agreement partnership Priva and Aranet. (Image source: Aranet)
The integration of Aranet sensors with Priva systems enables growers to analyse all their greenhouse processes and to create new insights based on that data.
Patrick Dankers, product manager at Priva, said that the aim is to help growers from all over the world to take advantage of the opportunities that wireless technology offers today.
"In the current way of working, growers spend too much time organising data and too little time analysing data. With this cooperation, we can solve this issue. That means a grower can really start to benefit from wireless technology and focus on new insights to optimise the daily operation."
This cooperation is set to offer industry-leading wireless monitoring systems for the horticultural market.
With this partnership, Priva aims to offer a complete solution towards the market: integrated controls and a one-stop-shop, making environmental monitoring wireless.
Gints Antoms, sales director of Aranet IoT Solutions at SAF Tehnika JSC, said, "Extensive wireless competence of Aranet in combination with Priva's in-depth knowledge of horticultural customer needs will ultimately result in a best-in-class wireless sensor offering towards the horticultural market, now and in the future."