Rwanda has signed a Memorandum of Understanding (MoU) with Israel to help improve horticulture in the country through the establishment of an agriculture excellence centre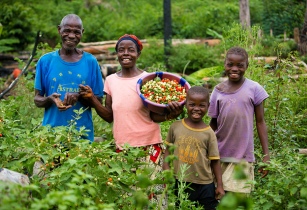 Israeli companies will also sell paramedical equipment, curricula software and solar energy to Rwanda. (Image source: Feed the future/Flickr)
According to Rwandan Ministry of Agriculture, the country will be providing experts in agriculture technologies to train Rwandan farmers.
"We will help farmers to boost their productivity by helping to develop technology and professionalism. Experts from Israel will carry out field demonstration training and some Rwandan farmers will be taken to Israel for training," said Ilan Fluss, deputy head of Israel's Agency for International Development Corporation.
Innocent Musabyimana, secretary at the Ministry of Agriculture of Rwanda, added that the centre will help increase agriculture exports.
"We need skilled people to help us improve our agriculture exports. Concerning horticulture products, we only have cross border trading but I believe with the agriculture excellence centre, we will also be able to export those products elsewhere," noted Musabyimana.
The agriculture excellence centre will not only help boost horticulture production and farmers' welfare, but also contribute towards Rwanda's Gross Domestic Product (GDP), which currently stands at 33 per cent, reported the Rwandan Ministry of Agriculture.