AGI EMEA's new facilities in Italy will serve customers across Europe, Middle East and Africa, with innovative equipment and enhanced storage solutions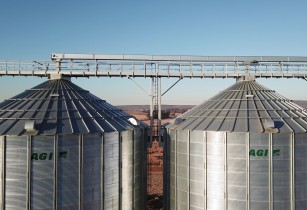 AGI EMEA has launched three new manufacturing facilities in the Bologna region, Italy. (Image source: AGI)
Customer experience (CX) is an enterprise-wide priority at AGI. This is demonstrated by AGI EMEA, which has introduced three new state-of-the-art manufacturing facilities to serve customers across Europe, Middle East and Africa.
These facilities are located in the Bologna region of Italy, where AGI EMEA is headquartered. They will help the company increase manufacturing capabilities, produce high quality equipment and provide exceptional customer service.
AGI EMEA's objective is to provide the best possible customer experience faster, and with lower costs and efficient engineering support.
To achieve this goal, they invested in building new state-of-the-art facilities capable of serving their expanding global demand better, with shorter turn around time. These facilities include new product lines and increased manufacturing and engineering capabilities in grain storage and handling solutions.
The facility in FiessoD'Artico was specifically designed to enhance the capabilities of AGI FRAME, one of the most respected engineering companies in Europe. AGI FRAME manufactures high quality storage silos and ancillary equipment, including round hoppers, sweep and discharge augers, cleaning, drying and other equipment associated with both commercial and cereal storage systems. With the FiessoD'Artico facility, AGI FRAME now includes three new lines for roof, stiffeners and wall sheet capabilities, in addition to commissioning innovative robotic welding cells that will automate welding activities.
In this new facility, AGI FRAME provides cost-effective, high quality, technically advanced, environment-friendly solutions, that meet customers' individual storage requirements in the fastest timeframe.
The AGI facility in Este is the centre of the well-known brand AGI PTM, a top-tier manufacturer of handling equipment for grain storage and processing.
The AGI PTM product range includes bucket elevators, chain conveyors and belt conveyors.
The handling capacity ranges from 20 to 2000 t/h. AGI PTM delivers solutions across a range of applications and industries including storage and mechanisation of port installations, to serving industry grain traders, millers, feed-mills, pelletisers, bio-fuel processing plants, engineering companies and contractors around the world.
The new facility in Este has benefited from not only new laser cutting and press break machines, but also an automatic lathe cell and milling machine station that will manage the majority of the components for mechanical handing. This innovation aims to provide competitive cost and delivery time solutions to clients.
The facility in Ozzano has been doubled in size to provide additional space for engineering and project management departments, to keep up with AGI EMEA's growth. As a company that prioritises innovation and provides industry leading customer experience, AGI EMEA is truly excited for the future.
"We are thrilled by our potential to continue moving the dial forward on effective grain storage and handling solutions. Our new facilities play a significant role in raising the bar on what the agriculture technology industry can offer," said a company representative.