Scientists in Kenya have released five new canning bean varieties after a joint research project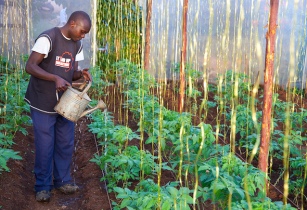 Researchers say the new varieties are better suited to local conditions, and will allow for higher agricultural productivity. (Image source: USAID/Flickr)
Researchers from the Kenya Agricultural and Livestock Research Organization (KALRO) and the University of Nairobi, with support from the Bio-Innovate Africa Programme, focused on various ecological zones in Kenya to get the best germplasm for the new bean types.
The new varieties — KAT-SW 12 (Kenya Mali), KAT-SW 13 (Tamutamu), MN-6 (Kenya Cheupe), KCB 13-12 (Kenya Mamboleo), KCB 13-09 (Kenya Salama) and KCB 13-11 (KenStar) — were developed to be better suited to local conditions.
"The new varieties are drought-resistent and disease-tolerant. Demand for the new varieties has been driven by the private sector in the canning industry," noted project leader Dr Davis Karanja, adding that the new beans have a 60 per cent higher yield than existing types.
Prof Paul Kimani, lead scientist at the University of Nairobi, said, "It is a major development, since this is the first time canning varieties have been developed locally".
The news of the project's success will end a 60-year reliance on the Mexican 142 white canning bean variety, a development which canning companies believe will increase productivity.
"We plan to increase our production of canned beans by 100 per cent with the release of the new varieties," said Mwangi Njiru, operations manager at Nairobi food processing company Trufoods.
Overall, Kenyans consume approximately 450,000 tonnes of beans against a local production level of between 150,000 and 200,000 tonnes, importing the difference from neighbouring countries such as Uganda and Tanzania.