Sackett-Waconia, USA and Bagtech International, South Africa have reached an agreement to be partners on the African Continent to offer a wide range of products and services for fertiliser industry including blending, handling and process systems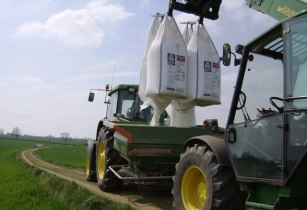 (Image source: Graham Horn/Commons)
The combined Companies bring extensive experience in marketing, designing and supplying fertilizer systems including blending, bagging, handling, and granulation. With along-standingg reputation for quality and service and more than 1,000 blending plants in operation, Sackett-Waconia brings more than 180 years of Fertiliser Industry experience and an extensive proven product line operating in over 60 countries. Bagtech has more than 30 years' experience and knowledge of Africa, equipment design and supply, plant operating experience and an excellent reputation for Blending and Bagging specific to the continent.
The combined companies' goal is to be the premier Company offering experience, equipment, and support to the African Fertiliser Industry.
Larry Taylor, CEO of Sackett-Waconia and Fred Coelho, CEO of Bagtech say they are excited about this relationship and are confident it is a very positive development for the supply of high quality, reliable fertiliser equipment systems and support throughout Africa. This is particularly relevant as the African Fertiliser Industry continues its role in balanced, sustainable nutrient use to increase food production.