The second meeting of the Fish Trade and Enterprise Development Working Group, which is a part of the African Fisheries Reform Mechanism (AFRM), took place in Gaborone, Botswana from 20-21 July 2023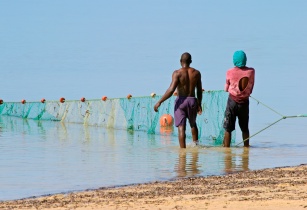 The meeting presented a vital opportunity for stakeholders to collaborate and explore avenues for promoting fish trade and enterprise development in Africa. (Image source: Adobe Stock)
The primary objective of this gathering – which marked the second assembly of the restructured Working Group on Fish Trade and Enterprise Development within the AFRM – is to boost the efficiency and effectiveness of fisheries and aquaculture projects throughout Africa. The initiative looks to foster regional integration, bolster the capabilities of African Union (AU) Member States and regional entities in providing knowledge-based advisory services, and contribute to the achievement of Agenda 2063.
Minister of Agriculture for the Republic of Botswana, Fidelis Molao observed that there is a significant and concerning increase in the disparity between the supply and demand of fish. In response to their declining state, allocating additional resources towards the advancement of aquaculture and the effective management of capture fisheries was seen as a necessity. In addition, Molao highlighted that despite being in its early stages of development, the Government of Botswana acknowledged the country's aquaculture sector potential and proceeded to implement the approved 2021-2026 Aquaculture Strategy. Futhermore, the government in collaboration with the Food and Agriculture Organisation (FAO) is in the process of develping the Aquaculture Policy, which is scheduled to be complete by 2024.
In addition to the opening session, the two-day event comprised technical sessions on setting the scene presentations, prioritisation of issues and identification of two key items for knowledge products, and synthesising of issues for the two knowledge products.
Overall, the meeting helped bring together representatives from AU member States, Regional Economic Communities (RECs), Regional Fisheries Bodies (RFBs), and other stakeholders to strategise on policies and initiatives. It also presented a vital opportunity for stakeholders to collaborate and explore avenues for promoting fish trade and enterprise development in Africa. Through concrete actions and strategies, this gathering will contribute to the AU's vision of a thriving and sustainable fisheries sector across the continent.
To read about Uganda's new ultra-modern aquafeed plant, click here.