The Bakoteh Fish Market and Ice Plant in The Gambia has generated GMD1.8mn (US$50,950) from its vendors since the beginning of its operations in March this year, according to its manager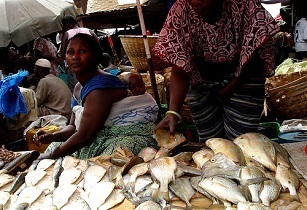 Bakoteh Fish Market is aiming to accommodate more vendors in the future. (Image source: Javier D/Flickr)
The fish market, located in Kanifing Municipality, is a US$3.3Mn project financed by the Gambian government and the African Development Bank (AfDB), with the main objective of enhancing food security and contributing to the reduction of poverty in the country.
The market has 92 registered fish vendors, with the majority being women, according to its chief executive director Mustapha Njie. In July, Gambian President Yayha Jammeh distributed a cash amount of GMD100, 000 (US$2,832) to the female fish vendors at the market as a loan.
"The present market situation is encouraging because all the market vicinities are tidy and people buy ice without any hindrance," said the market's manager Duwa Jatta. Jatta disclosed that the market plans to introduce tables and canteens that would enable it to accommodate more vendors in the future.
According to Jatta, it will transfer GMD1mn (US$ 28,316) into a fixed deposit account, with the aim of yielding interest. Jatta added that the management was currently working on the modalities on how to use the money for the intended purpose.