The Nigerian government plans to boost local production of species, in an attempt to reduce the import of fish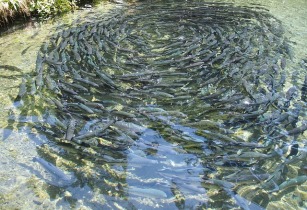 The ministry has acquired 100 ha of land in Gaube area of the Federal Capital Territory and it will be developed to support local fish production, Ogbeh said. (Image Source: ESchwartz/Pixabay)
The Nigerian minister of agriculture and rural development Audu Ogbeh recently said that a whooping US$700mn is spent annually on importation of fish in terms of foreign exchange. Ogbeh pointed out it was no longer sustainable for government to continue to spend such amount on fish imports.
He said that more funds will be provided to the research institutes to scale up research work into the local production of other fish species, apart from the regular catfish and Tilapia.
"The government can no longer sustain the high importation bill on fish. We need to start looking inwards to see how Nigeria can produce some of these fish both for local consumption and importation."
He added that the government will encourage 'massive investment' in artisanal fish production to meet the protein needs of Nigerians. The minister, who was speaking during a courtesy visit by Triton Aqua, pledged to collaborate with the company on fish production to reduce the annual fish import bill. Ogbeh also urged the company to train more people in fish production so as to have sources of livelihood.
The minister also revealed that the ministry had acquired 100 ha of land in Gaube area of the Federal Capital Territory and it will be developed similar to the Songhai farm in Kwara state, where young people will be trained on modern farming techniques.
Triton Aqua chairman Ashvaran Samtani called on government to support the company in acquisition of land for expansion of its investment and to access the Gurara Dam in Kaduna State and Doma Lake in Nasarawa State.
"We are also going to produce 70,000 mt of catfish and tilapia with government's support in five years and create 3,000 jobs for young people in Nigeria. We are also setting up our feed and hatchery company. We used to be a trading company, but now a producer, which is in line with government's drive to diversify the economy," Samtani said.