The South African Police Service (SAPS) has announced that abalone poaching will be reclassified as a serious priority crime, with the related crime of an organised nature being considered a serious offence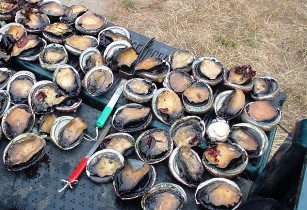 The abalone extinction will have an impact on the aquatic environment. (Image source: California Department of Fish and Wildlife/Flickr)
This was announced as part of a briefing by the South African Police Service (SAPS) on the 2018/19 Annual Report in the province.
Andricus van der Westhuizen, MPP, said, "The reclassification of this dire criminal activity in our province is a step in the right direction towards protecting the Western Cape's delicate marine environment and our precious ocean resources. I am glad to see that the SAPS is finally taking this matter seriously in our ongoing fight to curb abalone poaching in the Western Cape."
The risk of abalone extinction is a real threat to the oceans of the Western Cape, which will have an impact on the aquatic environment and the oceans economy of the province from which the majority of South Africa's fisheries is sourced.
MPP van der Westhuizen added, "This environmental crime is a pressing concern as abalone extinction could have disastrous consequences for the entire country. I will be monitoring this crime reclassification closely to ensure that law enforcement follows through on its commitments in our ongoing fight to protect our province's oceans.
"The DA in the Western Cape remains committed to protecting the natural environments, ensuring that our resources are used sustainably and that the unique beauty of our province and its fauna and flora are preserved for generations to come."