In a move to boost the production of fish, the Ghanaian government has banned the importation of Tilapia, which is popular fish on most local food menus across the country, according to minister of fisheries and aquaculture, Sherry Ayitey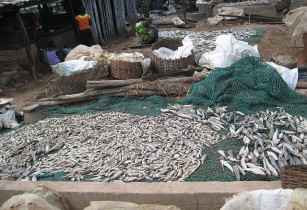 (Image source: Katie Yaeger Rotramel)
Ayitey said the ban will create about 50,000 jobs in the aquaculture sector of the economy, where young unemployed persons are being targeted. In addition, it is expected that the ban will provide the needed market for young people who are
being encouraged to enter Tilapia production.
In order to create the environment for the anticipated production of Tilapia, Ayitey said portions of the Volta Lake will be demarcated for all year round aquaculture. The boost being given to the production of fish is part of World Bank supported
West Africa Regional Fisheries Programme which covers the period 2011-2017.
The objective of the programme according to the World Bank documents prepared on the project is to support the sustainable management of Ghana's fish and aquatic resources by strengthening the country's capacity to sustainably govern
and manage the fisheries sector.
In addition, it is expected that the programme will also reduce reducing illegal fishing and then provide the basis for an increase in the value and profitability generated by the fish resources and the proportion of that value captured by the
country.
The World Bank revealed an amount of US$50.3mn has been approved for the project by International Development Agency (IDA) out of which US$7.44mn has been disbursed. The IDA is being supported by an additional Global Environmental
Facility which is to support the sustainable management of Ghana's aquatic resources.
The overall objective of the project is to increase revenue and profitability in capture fisheries by at least US$50mn per year within five years and increase the aquaculture production to 100,000 tonnes per annum within five years.
Francis Kokutse