The Coega Development Corporation (CDC) has set-up plans to construct an aqua-farming facility on 300ha of land at the Coega Industrila development zone outside Port Elizabeth in the Eastern Cape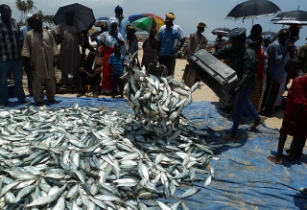 Plans for finfishfarming have been propsed on 120ha of the industrial development zone. (Image source: WorldFish)
The project follows the completion of a feasibility study which revealed that local conditions were well suited for the commercial cultivation of marine animals and plants, including abalone, finfish and seaweed, CDC said.
"The CDC aims to dedicate 80ha to abalone farming by 2020, creating about 2,080 permanent jobs," said CDC agroprocessing project manager Dr Keith du Plessis.
"South Africa is widely known to have of the best abalone and the best product in the world, all of which is exported to the Far East," Plessis added.
South Africa's oceans are expected to contribute up to US$16.6bn to the country's gross domestic product (GDP,) while bringing in 1mn new jobs by 2033, CDC stated.
"Finfish farming on a further 120ha of the industrial development zone (IDZ) had also been proposed," Du Plessis continued.
"Another species that could potentially be farmed is seaweed, which is complementary to abalone farming and can be used for abalone feed and various pharmaceutical uses."