Agricultural bioscience company, Yield 10 on 18 October announced that the company had chosen the option to ink the an exclusive global, commercial license to UK-based Rothamsted Research Limited's advanced omega-3 production technology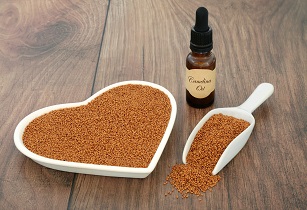 Yield10 has elected to prioritise the current EPA8 omega-3 Camelina as the initial profile for commercialisation. (Image source: Adobe Stock)
The Rothamsted team over the last decade, has demonstrated their technology which enables the sustainable, plant-based production of omega-3 nutritional oils in Camelina seed. Moreover, evaluations of the oils in salmon feeding and human clinical studies demonstrated lipid lowering effects.
Omega 3 fatty acids have great market opportunities. As a result of overfishing, their supply has experienced increased pressure over the recent years. Under the collaboration with Yield10, additional intellectual property has been developed by Rothamsted for next generation omega-3 Camelina varieties. However, in response to customer interest, Yield10 has elected to prioritise the current EPA8 omega-3 Camelina as the initial profile for commercialisation.
Yield10 and Rothamsted are also pursuing commercial development of Camelina to produce omega-3 oil containing both EPA and DHA fatty acids as a sustainable alternative to oil obtained from ocean-harvested fish, which serves as an essential ingredient for fish feed used in aquaculture.
"The Rothamsted team has advanced the omega-3 Camelina technology to where it is ready to begin commercialisation," said PhD, president and CEO of Yield10 Bioscience, Oliver Peoples. He further mentioned the company's plan to introduce improvements in the varieties through the deployment of their herbicide tolerance and performance traits.
"Commercially, we are on a promising path to commercialising elite omega-3 varieties of Camelina that combine good agronomics in the field while also producing high-value, high-purity omega-3 oils possessing very attractive economics," Peoples added.
For more information, head over to: www.yield10bio.com