A four-day conference backed by the United Nations was recently held in Ruweng Administrative Area, bringing together 80 representatives to have focused discussions on strengthening security, thereby ensuring a peaceful migration of cattle across state borders, this year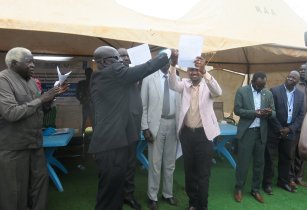 Respect for cattle migration laws underscores community-proposed resolutions at a recent United Nations-backed conference. (Image source: Adobe Stock)
This annual migration of hungry cattle and their often armed owners from South Sudan's Northern neighbour Sudan, creates tensions with farmers in the area. This is because cows often graze on food crops, destroying chances of a productive yield. Besides this, they also have a negative affect on available water sources.
Violent clashes erupting from disagreements caused by such movements has resulted in a loss of lives, thus initiating a four-day conference in in Ruweng Administrative Area.
Pastoralist communities from Sudan traditionally spend more than half the year in and around Ruweng, ensuring their animals have plenty to eat. Their presence, however, is not often welcome, given frequent disputes with host communities, cattle theft, land grabbing and the transmission of diseases from unvaccinated animals.
The conference successfully brought together 80 representatives from both countries to have focused discussions on strengthening security. Through spirited and frank discussions, all participants endeavored to come up with actionable resolutions which, they hoped, would contribute to improved relationships between the two regions.
"We are determined to implement the resolutions we have agreed on," said Hammed Bito, leader of the Falata community. "We will ensure these resolutions are widely disseminated among our youth when we return and sensitize them about the zero-tolerance policy on crime," he added.
The successful implementation of these resolutions, of course demands the involvement and commitment of all parties, including the local government of Ruweng Administrative Area which is responsible for protecting civilians and providing basic services to nomadic pastoralists in return for their taxes.
Thor Chot Riek, Peace and Community Cohesion Analyst with UNDP revealed that the UNDP had just deployed a governance and economic analyst, who was sitting with the revenue authority and the ministry of finance. According to Riek, his expertise would be invaluable in dealing with the issue of multiple taxes raised by Sudanese pastoralists, and the collection of taxes by non-state actors.
As the conference concluded, participants showed pride in their accomplishment, while holding up the signed resolution document.