Federal Executive Council (FEC) has approved the National Dairy Policy to enhance livestock farming by ensuring a stable and sustainable dairy sector, reduce the protracted conflict between farmers and herders as well as drive massive investments in the industry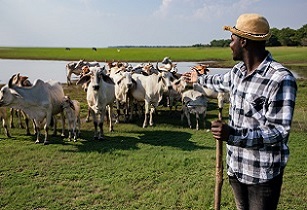 The policy would provide an enabling environment for increase in milk production, processing, distribution, consumption and earnings of the livestock farmers. (Image source: Adobe Stock)
Speaking during the recent 2023 World Milk Day Ministerial Press Briefing themed 'Sustainable Dairy: Good for Planet, Good for You,' the Minister of Agriculture and Rural Development, Mohammad Mahmood Abubakar stated that the policy would create more job opportunities, reduce national expenditure on importation of milk and milk products as well as improve the nutritional status of Nigerians. The Minister added that the policy would provide an enabling environment for increase in milk production, processing, distribution, consumption and earnings of the livestock farmers.
Abubakar revealed that the Ministry would use the opportunity of World Milk Day to coordinate focussed discussions on dairy development in Nigeria from the views of industry experts in finance, agribusiness, environment and other related areas and communique will be issued at the end of the event. He highlighted some of the achievements in the diary sub sector to include capacity building and empowerment programmes on hygienic milk production and processing for dairy farmers in Bauchi and Plateau states.
Speaking further, the Minister stated that through the Bank of Agriculture (BOA), the Ministry would provide financial empowerment to livestock farmers to boost their productivity and resilience. The 2023 World Milk Day celebration will feature lectures, discussions, exhibitions and children's programmes, and will take place at the Abuja Chamber of Commerce and Industry complex from 31 May - 1 June 2023.