A full-scale industrial dairy farm will be built in Nigeria after a Memorandum of Understanding (MoU) was signed between NigerPars Nigeria Limited, the Iranian Research Organisation for Science and Technology (IROST) and the Holstein Association of Iran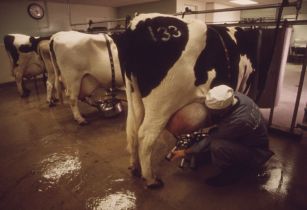 The HOLFA development will look to attract US$100mn of foreign and local investment. (Image source: Charles O'Rear)
The high-tech Nigerian Holstein Farm Project (HOLFA) will also have the capacity to milk up to 6,000 cows and will also provide meat packing services.
Once a location for the vertically-integrated facility has been selected, the development will be built in four phases and will look to attract US$100mn of foreign and local investment.
"The HOLFA facility will produce milk, butter, cheese and yoghurt to the highest international quality standards and production consistency," said Mohammed Sanjabi, scientific council member of IROST and president of the Holstein Association of Iran. "We will have products for non-refrigerated long-life, and refrigerated warehousing, transportation and logistics so that children should be able to enjoy the nourishment and health benefits that fresh milk offers."
Sanjabi said that the project would create direct and indirect employment for 3,000 Nigerians who will be trained by specialists from IROST.
NigerPars Nigeria chairman Kouros Jahangiripoor remarked, "NigerPars is very excited to bring the world's best technology in industrial-scale dairy farming to Nigeria, including arranging the financing and all the contractual details.
"IROST and the Holstein Association of Iran already have 12 projects throughout Middle East and Central Asia, with the cattle specifically groomed for the ambient climatic conditions."