Wholesale beef prices have dropped by around 20 per cent in Tanzania, following poor rainfall in 2015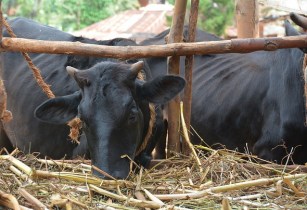 Retail prices remain high in Dar es Salaam, despite the sharp fall in the price of wholesale beef. (Image source: Climate Change, agriculture and food security/Flickr)
The price per kilo dropped to less than US$2.40 this week from highs of almost US$3 recorded in January, before fears of a potential drought prompted farmers to rush to sell their cattle.
Wholesale traders at Vingunguti's slaughterhouse in Dar es Salaam said that despite the dramatic fall in wholesale prices, the retail price fell only marginally, by around US$0.25, with the mismatch between the two providing opportunities for butchers and other middle men to profit.
Statistics from Ministry of Industry and Trade show cattle prices in the capital's Pugu market dropped by between one and four per cent in last week for both Tzebu grade G2 and G3.
The price of female G3 fell by 1.8 per cent to US$235 per head compared to the previous week, while male G3 also dropped by 3.1 per cent to US$418 per head.
Some traders have warned, however, that the value slump may be short-lived, with the approaching Easter weekend expected to drive up demand, and with it prices.