Rwanda's Gicumbi district will get a modern milk collection centre, a move that is expected to benefit 300 dairy farmers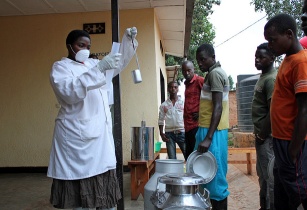 The milk collection centre in Gicumbi will have modern equipment to test milk for quality before sale. (Image source: CIAT/Flickr)
Part of a World Vision project, work will begin this week on the US$45,000 facility. When completed, the plant will purchase surplus milk from the farmers.
To be run by local cooperative Zirakamwa, the facility will be equipped with modern apparatus to test quality and prevent produce from going bad before it reaches market — something which has proven a problem in the past.
Alphonse Ndungutse, president of the cooperative, explained, "Although people who received cows from the One Cow per Family programme had started realising benefits, they were still faced with a problem of handling their milk and lacked enough market to sell surplus."
The new plant will alleviate these problems, according to World Vision director George Gitau, by not only providing dairy farmers with a market, but enabling them to minimise losses from spoiling.
"Cooperatives will be trained to run the plant and to use the available modern machines to add value to milk and manufacture products such as ghee and yoghurt for sale," said Gitau.
UN undersecretary-general Dr Carlos Lopes recently said that this kind of expansion from farming into food processing was critical to Africa's economic prospects.
"The shift towards modern integrated agribusiness provides a lucrative opportunity for a large number of smallholder farmers," Dr Lopes said, adding that Africa cannot continue to import yoghurt or toothpaste.