Non-profit group Family Group Foundation and Heifer International Kenya have signed an agreement to provide financial support worth US$25.14mn to small-scale dairy farmers in Kenya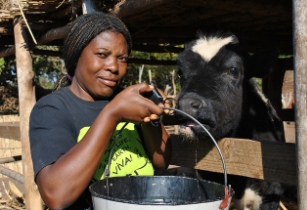 The EADD programme will focus on building social capital and will actively pursue partnerships. (Image source: USAID/Flickr)
The project will be partly funded by the Bill and Melinda Gates Foundation and will target around 136,000 farmers in Kenya, Family Group Foundation said.
According to the foundation, the East Africa Dairy Development (EADD) programme has been designed to boost the milk yields and incomes of small-scale farmers in the region to lift their communities out of hunger and poverty.
Annie Muya, executive director of Family Group Foundation, said, "We will seek partnerships with investment from local processors, the financial sector and other private sector players will explore ways to increase hub sustainability, thereby readying this approach for scale by other public and private entities."
Muya noted that the second phase of EADD programme will aim at improving dairy production and access to markets over the next four years.
The programme will also provide additional opportunities to create financial independence and social equality in addition to changing the nutritional landscape in East Africa, added the executive director.