Pan-African private equity investment manager EXEO Capital has announced an investment by its Food and Agribusiness Fund, Agri-Vie Fund II, in Glacier Products Limited – a Kenyan brand of ice cream and chocolate, 'Dairyland'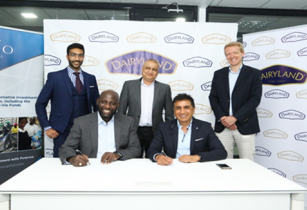 Paul Nguru of EXEO and Sunil Shah of Glacier. (Image source: EXEO)
Investment is subject to regulatory approvals and is expected to be completed in the coming weeks.
Glacier, incorporated in 1979, has experienced strong growth over the years and is a common household brand, spanning Kenya, Tanzania, Uganda, South Sudan, Ethiopia and Rwanda. Dairyland has received a number of prestigious awards, including the SOMA Award for Best Consumer Products and the Superbrands East Africa Award for Maintaining Brand Leadership in East Africa.
In addition, Glacier is FSSC-certified – one of the highest food safety accreditations awarded to companies that meet the strict requirements of food safety management systems.
EXEO Capital currently has approximately US$250mn assets under management, and has completed more than 25 transactions in several growth sectors across East and Southern Africa over the past 12 years.
Paul Nguru, partner at EXEO Capital, said, "This investment is a great addition to our growing food and agribusiness portfolio on the continent. Our partner, Glacier, has laid a solid foundation, which combined with EXEO Capital's sector knowledge, strategic insights, and extensive pan-African networks, will steer the company towards continued sustainable growth."
Swathi Rao, associate vice-president at I&M Burbidge Capital, the lead transaction advisor to Glacier, said, "We are delighted to have advised on this transaction for our client, Glacier. It is a fantastic business with really exciting brands and products. The partnership ethos and shared values between Glacier and EXEO were evident throughout the transaction."