Kenya's Ministry of Agriculture is developing fresh guidelines to maintain a high quality of animal feed in the country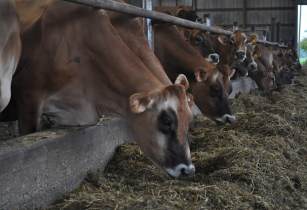 Kenya's government hopes that better quality feed will lead to higher milk production. (Image source: United Soybean Board/Flickr)
A new animal feed policy is expected to be ready in the next six months and it will specify the standards that manufacturers will have to maintain when producing feed. The policy is also slated to contain a raft of sanctions, including possible prosecution, for manufacturers who mislead feed buyers with false nutrition information.
Fred Segor, principal secretary for livestock, said that some feed manufacturers have been cheating farmers with products that do not contain the nutrition levels that appear on the packaging. He said that the new policy will help the ministry streamline the industry and enforce standards stipulated by the Kenya Bureau of Standards (KEBS).
"Currently, some manufacturers supplement nutritional contents and the percentages do not tally with the required standards. In case this happens, KEBS should take action as the regulator," he told the Daily Nation in an interview.
Segor added that the policy will propose that manufacturers caught adulterating feeds should either be stopped from business or face other penalties.
He lamented the fact that South Africa, despite having a smaller number of cattle heads than Kenya, produced a lot more milk, and he attributed this to low level of nutrition provided by the feed available in Kenya.
"We have four million exotic dairy cattle and yet, South Africa, which has less, produces a lot more milk," he said.
The Kenyan government also wants to address the issue of quality cattle breeds and will set up liquid nitrogen plants across the country to store semen for artificial insemination. Three such facilities have already been set up in the country, and two more are expected to be completed by March 2016.