A clinical trial conducted in collaboration with Strauss Health in seven large Israeli dairy farms, demonstrated that Mileutis, an Israel-based biopharmaceutical company can effectively substitute the major use of antibiotics in the dairy industry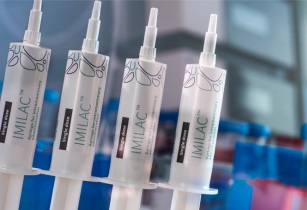 Imilac has exhibited game-changing results in the clinical trials, paving the way for a transformation in the dairy sector and leading the dairy industry into a sustainable future. (Image source: Mileutis)
Although antibiotics have been traditionally used to treat and manage mastitis in dairy cows, this approach when applied for too long presents farming challenges and human health risks related to antimicrobial resistance (AMR). Mileutis has helped address this critical health issue by developing Imilac, a safe and residue-free biological therapy that does not involve the use of antibiotics.
A rigorous, randomised, case-controlled, multi-centre, clinical field trial was conducted at seven different commercial dairy farms and involved more than 500 dairy cows. Results of this trial provided conclusive evidence of the ability of Imilac therapy to completely substitute the routine use of antibiotics at dry-off in the dairy industry. In addition, Imilac also impacts the nutritional characteristics of milk. This breakthrough patented by Mileutis resulted in an approximate increase of 236 kg of milk yield per cow without the use of antibiotics. Furthermore, the applied Mileutis' therapy during the trials accelerated the involution process, thereby improving cow well-being while also reducing suffering among cows in the first days after dry-off.
Imilac has also demonstrated a remarkable ability to significantly increase energy-corrected milk yield (ECM) during the subsequent milking cycle of 305-days following treatment. This increase totalled to 957 kg (8.6%) of milk yield per cow and was achieved through natural biological means without the use of exogenous hormones. Moreover, given its ability to enhance the level of solids (fat and protein) in milk, the product directly improves financial returns for dairy farmers.
"Dairy farmers can now look forward to a future where the milk they produce will contain higher nutritional characteristics for consumers, will be more profitable for the farmers themselves, and environmentally friendly, thanks to the advancements pioneered by Mileutis," said David Javier Iscovich, CEO and co-founder of Mileutis. "Beyond an increase in the yield and welfare of cows, the improved profitability of dairy farmers can impact milk prices and benefit the broader consumer market while meeting growing global demand."
Mileutis is also actively in the process of developing an additional product line to address indications beyond mastitis, with an estimated potential to reduce antibiotic usage in the dairy industry by up to 90%.