The Bel group in collaboration with APBO (Bel's Milk Producers Association in the West of France) have presented the results of a pilot study conducted with dsm-firmenich and Institut de l'Elevage (Idele) on five dairy farms in western France from January to March 2023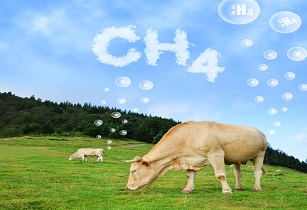 Data and analyses have demonstrated Bovaer's successful implementation, irrespective of the ration type and distribution method used on the farms. (Image source: Adobe Stock)
The objective of the study was to confirm the practical feasibility of distributing the feed additive, Bovaer to dairy cows in real-life farm conditions, using different types of ration and distribution methods.
Five farms were chosen for the project and Bovaer was added at a rate of around a quarter teaspoon a day to the diet of dairy cows. As Bovaer began taking action, it was safely broken down into compounds naturally present in the rumen, while at the same time suppressing the enzyme, and generating less methane as a result.
Data and analyses have demonstrated Bovaer's successful implementation, irrespective of the ration type and distribution method used on the farms. Results have also shown that optimal conditions can cause a reduction in enteric methane, which was estimated at between 29% and 42% depending on the farm, over the two months of the study.
When cows combine barn and pasture feeding, Bovaer cannot be distributed during the hours when the cows are on pasture. dsm-firmenich is currently developing a slow-release form of the product which should also enable the product to be active during grazing hours.
"Bovaer offers immense potential for moving towards a low-carbon dairy industry, a strong and long-standing commitment of the Bel group," said director of Milk Purchasing for the Bel group, Simon Bonnet. "We are delighted to have been able to test this innovative solution in France and demonstrate its relevance, working in concert with our dairy farmers from APBO, Idele and dsm-firmenich."
For more information, visit: https://www.groupe-bel.com/fr/