As Kenya grapples with a staggering 60% feed deficit, the African Union-InterAfrican Bureau for Animal Resources (AU-IBAR) on 31 October, launched its Inception Workshop and assessments for the Resilient African Feed and Fodder Systems Project (RAFFS) in Naivasha, Kenya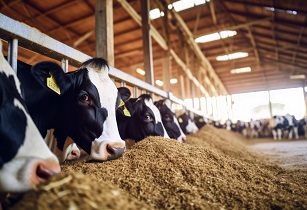 The nation grapples with a staggering 60% feed deficit, resulting in a significant shortfall of approximately 2.6 billion bales of feed. (Image source: Adobe Stock)
The RAFFS Project seeks to respond to challenges posed by the triple C crises: Covid-19, Climate Change, and the Conflict between Russia and Ukraine. Moreover, the project focusses on four key objectives which include establishing a knowledge and analytical ecosystem for evidence-based solutions; supporting business models and partnerships to address short-term feed and fodder shortages; empowering women in feed and fodder systems; and reforming policies and regulations to build a sustainable feed and fodder industry.
The Inception Workshop in Kenya was the fourth to be held in the RAFFS Project six core AU member states: Uganda, Nigeria, Somalia, Zimbabwe and Cameroon. Key stakeholders presented preliminary findings from surveys, launching the project officially, and introducing the African Women in Animal Resources Farming and Agribusiness Network (AWARFA-N) to enhance women's participation in the feed and fodder sector.
The country-level assessments provided insights into the impact of crises on feed and fodder systems, digital capacities, women's inclusion, and policy frameworks. National Assessment teams were also trained on field assessment tasks and data compilation. Training on financial inclusion and business formalisation was also part of the meetings.
Effective participation of AWARFA-N in the RAFFS Project was a key highlight of the week-long event. These meetings were held with high level stakeholders from the public and private sector and Ministers in charge of Livestock led government discussions.