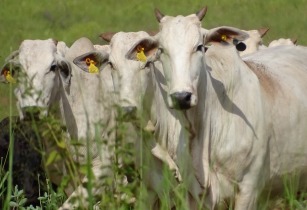 Results of a groundbreaking study unveiled by JBS and Silvateam, global leaders in plant extract production for animal feed, have demonstrated the effectiveness of tannin in curbing greenhouse gas (GHG) emissions within the beef industry
---
According to a research conducted by the São Paulo Institute of Zootechny (IZ), the feed additive, SilvaFeed BX which contains a combination of tannins and saponins can be used for feedlot beef cattle to reduce enteric methane emissions by as much as 17%. Moreover, the unique measurement methodology used by the study will allow a number of industry players including JBS to track reduction of emissions on their GHG accounting in the future.
Using the tannin mixture is often preferred over other feed additives since it contributes to weight gain and helps in the development of cattle carcasses. The product also results in reduced feed costs, improved feed conversion, and enhanced protein efficiency.
"JBS has been a key supporter in developing various studies on food additives, including the use of tannins in feed for cattle in feedlots. This technology is not just of interest to our company; it is a matter of significance for the entire livestock sector," explained Fabio Dias, director of Livestock at Friboi and leader of Regenerative Agriculture at JBS Brazil.
Results from the research which closely monitored the cattle at JBS's feedlot in Guaiçara (SP) for approximately six months, concluded that the use of the tannin and saponin mixture in their diet prevented the emission of more than 30,200 tonnes of carbon dioxide (CO₂) equivalent in JBS feedlot cattle.
Tannins extracted from quebracho trees, chestnut trees, and saponins form the base for Silvafeed BX. When introduced into cattle feed, the tannins effectively regulate and modify rumen fermentation. This leads to a reduction in enteric methane emissions, improved rumen metabolism, and, consequently, optimised animal performance.
For more information, visit: jbssa.com and https://www.silvateam.com/en/