The Sudanese minister of livestock, fisheries and pastures, Faisal Hassan Ibrahim, has revealed that the country's livestock exports rose by 96.6 per cent in 2012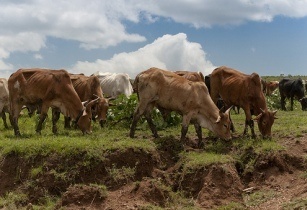 The rise in Sudan's livestock exports has been driven by demand from importers mainly from the Arab Gulf states, Egypt and Libya. (Image source: Brad Ruggles)
Ibrahim made the announcement during a meeting of the economic development sector headed by finance minister Ali Mahmood Abdel-Rasool, said Sudan's state news agency, SUNA.
The minister explained the increase was due to soaring demand by importers mainly from Arab Gulf states, Egypt and Libya.
The Sudanese government said that livestock exports earned around US$480mn by the end of November 2012, which was an increase on the estimated US$333mn earned in 2011.
The agricultural industry is one area Sudan hopes to improve in the midst of an economic crisis caused by South Sudan's secession in July 2011.
Livestock exports make up around 20 per cent of the national GDP and 50 per cent of the country's agricultural output.