Cattle farmers in Uganda have finished preparations for the construction of a US$7mn modern abattoir to assist them with exporting meat products overseas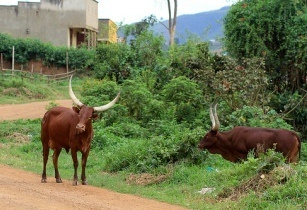 (Image source: AdamCohn)
As outlined by the Uganda Meat Producers Cooperative Union (UMPCU), farmers in the country have agreed to build an abattoir that meets global standards.
"Lack of an abattoir that suits the acceptable standards affects the market of our meat. We believe this is going to do us good especially the cattle farmers," UMPCU official Dr Francis Jumba noted.
Jumba warned that animals face are badly treated before they are slaughtered especially when they are being transported which affects this quality of meat, adding that cattle farmers in the local area will receive double the price of their meat products when the project takes off.
Tracy Hathorn, UMPCU chief executive director, stated that they have acquired land in Nakaseke for construction with the support of the Ugandan President Yoweri Museveni.
"Am pleased to let you know that we have been working on resolving this issue and will make sure we have the title deed soon," Harthon told the AGM.