Zimbabwe's TN Bank has announced it has begun accepting cattle as collateral for cash loans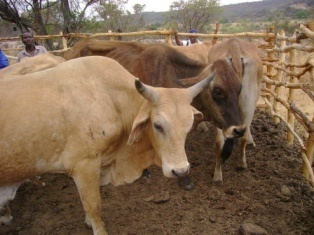 TN Bank is now collecting cattle in exchange for cash loans. (Image source: IPS Inter Press Service/Flickr)
According to Associated Press, depositors can now obtain loans of equal value to the cattle they have put in the bank.
Charles Chakoma, an executive at TN Bank said, "Cattle banking is the only way owners can get monetary value for their animals without having to sell them."
For many rural poor in the southern African country, the cattle bank is the first bank account they have ever had, TN Bank said.
Under the scheme, owners can accrue interest and have the option to get back their cattle after an initial two-year period or leave them with the bank for longer, it explained.
The bank, which owns several fast food outlets across Zimbabwe, said it will also slaughter aging cattle for beef and replace them with more productive cattle of the same value.
Following veterinary checks, the cattle are transported to paddocks owned by TN Bank for fattening and cross-breeding programmes.
Owners are then issued with the bank's 'Certificate of Cattle Deposit' as proof of transaction, the bank said.
With only 20 per cent of Zimbabwean cattle in commercial ranches, the rest - approximately 3.5mn animals - are valued at more than US$1bn, Chakoma claimed.