Makerere University College of Agricultural and Environmental Sciences (MUCAES) has announced that it has successfully completed its pig artificial insemination trial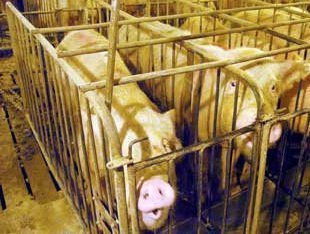 Makerere University College of Agricultural and Environmental Sciences (MUCAES) has announced that it has successfully completed its pig artificial insemination trial 
The trial led to the production of 12 piglets. The piglets were produced by a pig belonging to a local farmer with the first delivery recorded in November. Other inseminated pigs are still under gestation period.
The project, funded by the Regional University Forum for Capacity Building in Agriculture (RUFORUM) at an estimated cost of US$60,000, has been going on for two-and-a-half years at Makerere University Research Institute, Kabanyolo (MUARIK) as a pilot project to evaluate the performance of artificial insemination technology in pigs in the country.
The head of the Department of Agricultural Production, Dr Denis Mpairwe, told journalists that although artificial insemination is widely practiced in other places, Ugandan farmers faced limitations such as limited access to quality and disease-free boars to fertilise the females, the high cost of raising male pigs and a lack of technical knowhow to detect heat periods and insemination.
"The challenge in Uganda is freezing the semen for use in future and what we have done is to use fresh semen," said Mpairwe. "Another challenge is how to raise the boar since it is expensive and when the sow comes on heat, you have to look for the boar which [is free from] African swine fever, a deadly disease in pigs."
He said the research team led by Professor David Mutetika embarked on testing the artificial insemination technology to help piggery farmers in the country. A boar stud has been set up at the Agricultural Research Institute to collect, examine, package and distribute good genes to piggery farmers and roll out the technology to farmers.
Researchers said other strategies will involve the promotion of: rearing high quality breeds of pigs through careful selection of good boars; building farmers' capacity to detect the females on heat; record keeping and proper feeding to boost farmers' productivity. They noted that they have succeeded in training boars for semen collection and the making of a local dilutant that is able to keep boar semen for four days.
Pig farming is widely practiced in the country by a number of homesteads both on a small and large scale and official figures indicate that there are about 3.2mn pigs in Uganda.
By Geoffrey Muleme