PorkMoney, Africa's pig farm, has announced to partner with stakeholders on 4 June 2018, to unlock pig farming opportunities in the region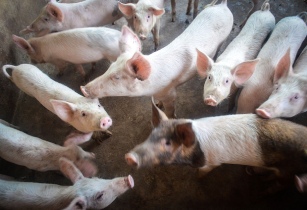 Pig farming is getting popular across Africa. (Image source: jbdodane/Flickr)
Muyiwa Folorunso, CEO of PorkMoney, said that the initiative aims to encourage the stakeholders to discover massive potentials of pig farming across many African countries where pork is a widely eaten meat.
According to the company, in 2017, South Africa exported 13,500MT of pork (5.5 per cent of total production) to neighbouring Namibia, Mozambique, Lesotho and Swaziland.
As it contains a high-level of protein and essential vitamins, minerals, amino acid which are good for overall health, pig farming has seen an upsurge among the African nations.
Addressing this, PorkMoney said that the company's initiatives aim to provide the scope to help in pig farming which is expected to yield profits up to 35 per cent in 11 months based on the plan subscribed to.
Folorunso said that PorkMoney has also partnered with a number of farmers in West African countries Nigerian and Ghana, being the largest consumers of Pork, to add value to the pig revolution in the region.