Responding to specific requirements of pig keepers, WEDA Dammann & Westerkamp have come up with hygienic pen walls and modules in a natural wooden look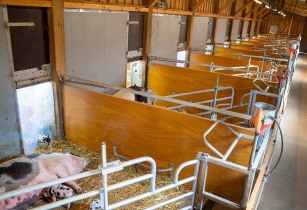 The new wooden look boards are UV-resistant and very easy to assemble. (Image source: WEDA)
Farms in the organic and conventional sectors give a lot of importance to individual and hygienic housing conditions. In pig farming, therefore, there is an increasing demand for housing concepts that focus on the health and performance of the animals. This is especially true in times of new types of infectious diseases spreading worldwide.
Till now, pens in the conventional sector have been equipped with the usual blue or grey hard PVC boards. In organic farming, on the other hand, operators have often used wood. "Real wood, however, has the downside of dirt and bacteria settling on the fabric. With our new plastic boards in wooden look, the hygiene standards under ecological husbandry conditions can be achieved quite easily because nothing sticks after cleaning," said WEDA development manager Ralf Meyer.
Easy to assemble and UV-resistant
The new wooden look boards are very easy to assemble. "Moreover, their surface is UV-resistant. This makes the material ideal for open stables with outdoor runs," Meyer added. The additional costs are also low. These pen walls made of PVC were developed especially for WEDA and are available in individual, adaptable sizes.
WEDA's first project was to equip the organic farm, Arche Wilhelminenhof, from Bakum in Lower Saxony with the innovative wooden look pens in a very short time. "The new material as well as the look fit perfectly into our existing concept," said operator Angelika Balz. This is not least due to the fact that other components, such as the gates, are made of stainless steel. "And they, just like the pens, are also very easy to clean. Hence, now our entire farm meets the highest hygiene standards," Balz added.