Pork producer Colcom Holdings Limited (Colcom) has said it will increase pork production by 27 per cent in Q1 2016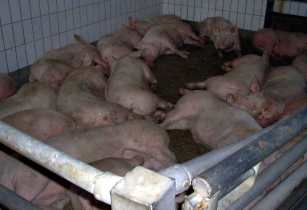 Colcom will further increase the capacity of its new production line by 600 pigs per month. (Image source: Maqi/Wikimedia Commons)
The company, a part of Innscor Africa Limited, had commissioned a new production facility in June this year, with a capacity to deliver 830 pigs per week. The plant is expected to achiever production at full capacity in Q1 2016. According to a Colcom statement about the new production line, "Initial deliveries were made in June 2015 and the unit is expected to achieve capacity stated within the first quarter of 2016."
Colcom plans to increase its pork production capacity first by expanding its existing facilities and once that is done, by setting up additional facilities. The initial expansion planned for the new unit installed in June will increase its capacity by 600 pigs per month. "Stock feed milling capacities are being reviewed to assess the additional requirements of sustaining a larger herd," said the statement.
Given the inadequate supply of maize from local sources, the company will rely on importing maize for feed. Colcom will also continue to work on growing its sales in the informal market through expanding its distribution network, thereby making its products available to a larger customer base.
Output from the company's Triple C Farms had fallen slightly for the period ended 30 June 2015 (YoY) but Colcom hopes to be back on the growth path this year.