In a bid to strengthen its focus on the grain business, AFGRI, along with Public Investment Corporation (PIC) of South Africa, has announced the sale of its poultry business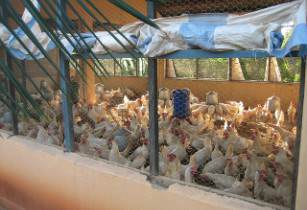 Black poultry farmers in South Africa will get a boost from the deal. (Image source: Erik Cleves Kristensen/Flickr)
The sale includes AFGRI Poultry as well as the company's Kinross Animal Feeds Mill. The buyer is AFPO Consortium Proprietary Limited (AFPO), a consortium led by Matome Maponya Investments (Proprietary) Limited, under the government's Black Economic Empowerment programme.
Chris Venter, CEO of AFGRI, said that the divestiture is in line with a strategic decision to concentrate efforts on its core grain businesses and position the company for growth, saying "AFGRI's remaining foods and processing businesses are well aligned to grain commodities." He also commented on the financial implication, "From a financial perspective the transaction enables AFGRI to reduce its gearing levels, fund priority businesses and reduce overall debt."
AFGRI Poultry has been renamed Daybreak Farms, and is now owned 54 per cent by AFPO, 36 per cent by the PIC on behalf of its clients and the remaining 10 per cent by employees and management. It processes more than a million birds per week, and the business includes the growing and processing of broilers into fresh as well as frozen whole birds, individually frozen birds and portions. The inclusion of established feed milling operations in the transaction ensures an integrated supply of specialist feeds for the process of growing chickens.
The deal represents a landmark transaction for black ownership in the agriculture sector, and has created the first significant black owned enterprise in this sector. According to Dr. Danial Matjila, CEO of PIC, "This transaction is important in that it enables previously excluded groups of people to participate in the poultry industry. The planned expansion of the operations will contribute to food security, with more jobs created."