Botswana Ostrich Farmers Association (BOFA) will hold a consultative seminar at the University of Botswana from 29-30 June to address challenges faced by the industry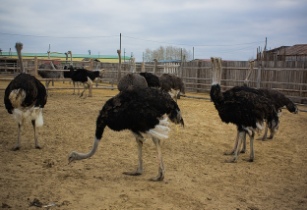 Ostrich farming may be the next big thing in Botswana's agriculture industry. (Image source: Pavel Ko/Flickr)
BOFA, supported by University of Botswana's department of management, had organised a workshop for ostrich farmers and those looking to enter the ostrich farming industry. The mid-term stakeholder seminar later this month is a follow-up that aims to provide a forum for constructive engagement between the association, its members and other stakeholders.
According to a statement by BOFA, relative novelty of the industry necessitates detailed planning at both national and project levels before farmers decide to plunge into ostrich production as a sustainable industry.
Some of the challenges that are pointed out include lack of control over the quality of ostrich chicks; inadequate training for breeding; lack of knowledge about feed rations; market and logistical challenges; and cash flow and continuity issues. Addressing such concerns and creating a more positive perception about the ostrich farming industry by providing relevant information is the chief aim of the seminar.
The meeting will bring together local and international players in the industry to deliberate these issues so that attending farmers have an opportunity to be better informed by discussions between the various stakeholders present.
Botswana has a large population of ostriches endemic to the region but lags behind neighbours South Africa, Zimbabwe and Namibia, as well as China, Europe and United States of America in commercial production.