Egg production in Zambia grew by 18 per cent during the year ended 2014, according to figures released by Poultry Association of Zambia (PAZ)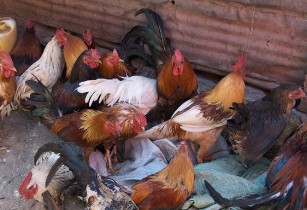 Zambia may lift the ban on backyard poultry farms. (Image source: A.Davey/Flickr)
Production increased to more than 1.05bn eggs during 2014, up from 899.7mn eggs produced in 2013. The industry also recorded a growth of nine per cent in production of broiler chickens, up from 68mn in 2013 to 73.9mn day-old chicks in 2014.
PAZ chairperson Rhodnie Sisala said that growth in the industry was driven mainly by a high demand for poultry meat because of higher prices of other meat products like beef, pork and mutton. He said that the rise in demand for chicken meat had been pushed up further by the emergence of African swine fever which affected the pork industry and led to a scarcity of pork products.
Sisala added that despite the growth shown by the industry during 2014, it faced a number of challenges including unregulated fees and levies charged by different district councils which are adding costs to production. Other challenges were bird flu, import of frozen chicken and chicken parts disguised as mechanically de-boned meat (MDM), high cost of inputs and the ban on backyard chicken rearing in Lusaka and Kafue regions.
Agriculture and livestock minister Given Lubinda said that the ban on backyard poultry was affecting the livelihood of people, and that his ministry would engage the ministry of local government and housing together with the local authorities to find a lasting solution to the issue.
Sisala also said that the poultry industry was contributing more than 40 per cent of livestock agriculture's share of the country's gross domestic product which makes the sector the largest livestock sub-sector at the moment. The industry also created direct and indirect employment for nearly 50,000 people.