More than 100 delegates from nine African countries took part in a recent three-day technical school organised by Cobb Africa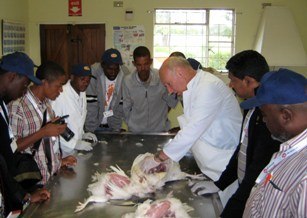 Dr Wouter Steenhuisen, Cobb Africa technical manager, shows the fat and condition of a bird. (Image source: Cobb Africa)
The school, which was run at Irvine's Zimbabwe in Harare, saw 20 international parent stock customers, from countries including Senegal and Mauritius, joined by customers from Zimbabwe, contract growers for Irvine's Zimbabwe and technical staff.
"There was excellent participation from all delegates making the school a huge success," said Patrick Murphy, general manager of Cobb Africa. "The school provided very useful training with guest speakers from four countries. The delegates told us afterwards what a great help and good experience it was meeting all these Cobb customers, adding up to a really memorable event."
David Irvine, founder of the business, welcomed everyone to the school at a dinner hosted at his home, and gave a history of the 50 years he has been working with Cobb.
The school included interactive lectures and practical demonstrations, with delegates encouraged to participate. Highlights included an egg break-out demonstration by Steve Tweed and broiler farm visits with Andrew Bourne, both of whom are part of the Cobb World Technical Support Team.
The body condition scoring practical session provided delegates with the opportunity to fine-tune their parent stock condition scoring techniques with the assistance of the Cobb technical staff.
International speakers at the event included Tom Wierda and Dr Wouter Steenhuisen from Cobb Africa.