'FierAvicola' 2019 will be held from 27-29 March at the Forlì Exhibition Center in Forlì, Italy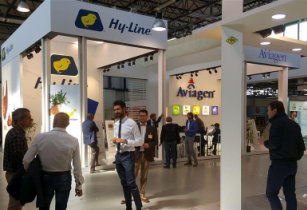 FierAvicola is Italy's leading trade fair for poultry production and processing. (Image source: FierAvicola)
The biennial event will host some 200 exhibiting companies, of which 25 per cent are from foreign countries. More than 10,000 visits of poultry chain professionals are expected to attend in 2019.
The exhibition will focus on all products and services concerned by the poultry chain: from genetics to animal health products, from farming equipment to processing factories.
With an exhibition area covering approx. 20.000 sqm, FierAvicola is the leading trade show in Italy for poultry production and processing, and one of Europe's qualified B2B events for the poultry industry.
More than 140 buyers from organised delegations and a number of European and African poultry professionals, as well as from China and Russia, will attend the exhibition. The event will no longer be just an event for poultry professionals, it will even be a showcase open to the global agriculture and nutrition sector.
The topics to be covered by the feed industry technicians and breeding professionals attending the upcoming event include sustainability and well-being in animal production, high-quality raw materials, ingredients and feed additives to improve animal health and welfare and removal of antibiotics from animal production.
Italian farmers and manufacturers of equipment and feed for poultry farming have gained extensive experience over the past 50 years, boosting the production performance of broilers or laying hens to unimaginable levels.
Italy has then developed a commodity-chain approach, which allows all the players of the poultry chain (from animal feeding to breeding and to transformation) to achieve the maximum efficiency, in full respect of animal health and welfare.
To know more visit: FierAvicola