The Department of Livestock Services alongside the West Africa Agricultural Production and Productivity (WAPP) Project has completed a two-day capacity building programme for 60 Gambian veterinary staff on the usage of 12 vaccine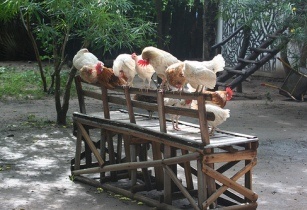 Veterinary staff in Gambia were provided with training for the handling of 12 vaccine. (Image source: OkeWriter)
The training programme took place at the Rural Farmers Agricultural Training Centre in Jenoi, Lower River Region (LRR).
The governor of the LRR Salifu Puye Puye noted that the training will be able to save livestock from the threats of Newcastle disease, while he spoke about the importance of agriculture to the socio-economic development of The Gambia.
Puye praised the Department of Livestock Services for organising the training, adding that it will give participants the technical skills for the proper use and handling of the 12 vaccine.
"Its incumbent upon every Gambian to endeavor for the sustainance of agricultural projects for the benefit of the entire country," the governor said.
The LRR governor praised the efforts of the government of the Gambia under the leadership of President Jammeh, for prioritising agriculture and enouraging Gambian to engage in agriculture in order to improve the sector's productivity.