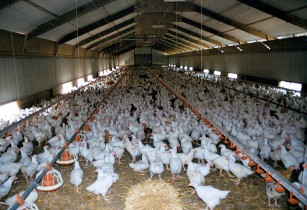 Ghana Broiler Revitalisation Project (GHABROP) aimed to increase local capacity in the production, processing and marketing of broiler chicken has been set-up in Accra, Ghana
The project will also reform the poultry industry along the poultry value chain and ensure that production farms, input suppliers, hatcheries, feed mills, veterinary service producers, processors, marketers/cold stores and consumers all work alongside each other to become self-sufficient.
Dr Hanna Louisa Bissiw, deputy minister of food and agriculture in-charge of livestock, heading the project, said the project was vital to the survival of the local broiler industry.
"As you may be aware, Ghana is deficient in her meat and milk requirements. Unfortunately the present levels of livestock and poultry production are woefully inadequate to meet the animal protein needs of 24mn human population," said Bissiw.
"This has resulted in Ghana becoming a net importer of frozen meat of which poultry meat constitutes the highest proportion," added Bissiw.
According to government figures, Ghana has around 200,000mt of chicken estimated at US$200mn, which amounts to 2.6mn chicken per week.