Zambia's poultry sector has demonstrated huge progress, regarding production, commercial and technological factors, according to the Zambian government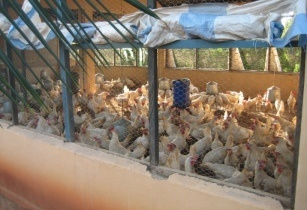 Zambia's poultry sector contributes around 4.8 per cent to agricultural gross domestic product (GDP). (Image source: Erik Cleves Kristensen)
Currently the production of poultry, meat and eggs in Zambia is consumed locally. The growth in the sector has expanded the egg setting's national capacity to around 1.7mn per week.
Further to its growth, Zambia has now set up modern abattoirs for poultry processing to meet growing demand for chicken in the country.
The country's poultry industry contributes around 4.8 per cent to agricultural gross domestic product (GDP) and livestock value addition is 48 per cent.
According to the Zambian government, the sector generates direct or indirect income and employment for an estimated 80,000 people, 50,000 of which are permanent jobs and 30,000 are seasonal jobs.
Poultry is currently the main meat consumed in Zambia, totalling an estimated 50 per cent of total meat consumption, followed by beef at 28 per cent, pork and fish at 16 per cent and the other meat products at six per cent.