Analysis performed by Data Bridge Market Research suggests that during the forecast period of 2022-2029, the poultry feed antioxidants market is likely to project a compound annual growth rate (CAGR) of 9.87%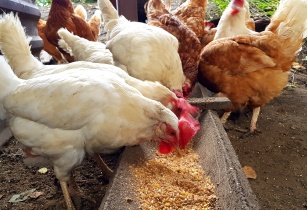 Poultry feed antioxidants market to undergo projection (Image source: Adobe Stock)
Feed antioxidants are substances added to animal feeds to extend their shelf life by preventing undesirable oxidation, thus retaining the nutritional and energy value of the feed. Several factors including a rise in demand of animal-based products, increasing feed production, consumer awareness, rising feed prices and livestock disease outbreaks have been responsible for accelerating the growth of the poultry feed antioxidants market. Moreover, new and innovative technologies incorporated into the feed production process will also create ample opportunities for the poultry feed market.
In order to determine scope and size, the market is divided into three segments based on type, animal type and form. Similarly, market analyses, market size and volume information at a global level is provided by country in the same way as mentioned above. Other factors that can be used to determine the market scenario for individual countries include consumption volumes, production sites and volumes, import export analysis, price trend analysis, cost of raw materials, down-stream and upstream value chain analysis, to name a few.
A report published by Data Bridge Market Research showed that increasing feed costs and meat consumption had resulted in the Asia-Pacific region scoring the highest compound annual growth rate (CAGR) during the forecast period. In regard to competitive landscape, details of competitors like company overview, financials, revenue generated, and market potential are provided related to the companies' specific focus on the poultry feed antioxidants market. Cargill, Incorporated, DSM, ADM, BASF SE, Nutreco, Kemin Industries Inc, Bluestar Adisseo, Perstorp AB, and Alltech are mentioned among the many companies operating as major players in the poultry feed antioxidants report.