Farmers can now optimise chicken nutrition with new mobile app that helps them save money and improve profits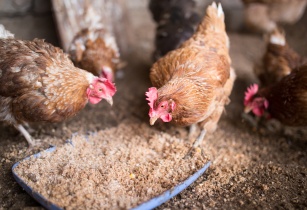 The FeedMixer app allows farmers to achieve the right nutrient balance in their chicken feed. (Image source: Adobe Stock)
Designed by poultry nutrition experts at the Poultry Science Department at the University of Georgia in the US, the new FeedMixer app aims to achieve the right nutrient balance in chicken feed, thereby addressing a major challenge that chicken farmers face. Rising commercial feed costs coupled with limited supply of certain grains often causes farmers to self-mix their chicken feed, thus making it difficult to achieve the right balance.
The FeedMixer app therefore, acts as a perfect solution by allowing users to choose the type of chickens they are feeding, and select the available ingredients, in the proportions they intend to blend. The app will indicate whether their chosen mix delivers adequate energy, protein, fibre, vitamins and minerals to nourish the birds without wastage. In addition, the app also allows users to calculate whether their feed mix is cost effective by putting in the cost of the ingredients they use.
Maureen Stickel, director of International Programme Development at the World Poultry Foundation, emphasised that the FeedMixer app includes a large library of feed ingredients, along with their nutritional values to guide farmers on feed mixes for layers, broilers, and dual-purpose birds at various ages.
"The FeedMixer app is designed for ease of use by people with a basic poultry background – including backyard and emerging chicken farmers. With the app, we are trying to make it simple for farmers to use local ingredients to formulate a diet that meets basic poultry nutrition requirements and achieve their basic production goals," said assistant professor/extension specialist at the University of Georgia's Department of Poultry Science, Sean Chen.
To download the app via Android and IOS, visit: https://play.google.com/store/apps/details?id=com.worldpoultryfoundation.feedmixer and https://apps.apple.com/us/app/feedmixer/id6448705400