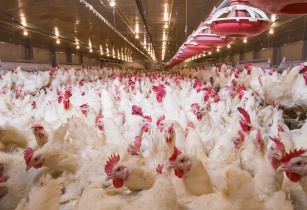 Broiler farms need to prioritise maintenance of ventilation systems to ensure healthy and productive livestock as well as avoid unexpected costs, according to experts at one of the leading ventilation companies, Hydor
---
The company's experts opine with summer heatwaves in the UK becoming a more frequent and intense occurrence, it is more important than ever that broiler farmers ensure ventilation systems are operating at peak performance.
John Lack, business development manager at Hydor, said that farmers are too often neglecting such equipment during the colder months as more emphasis is placed on heat. This can lead to bird welfare issues and reduced returns, as well as unforeseen maintenance costs when it comes to the peak ventilation seasons of spring and summer.
John commented, "A key problem for broiler farms is that later-staged fans can often seize up through underuse. As these fans are much less active until a heat wave approaches, they often haven't been checked, maintained and operated. This means the fans often fail to perform when called upon."
"Without proper ventilation, poultry is put at serious risk of heat stress which can lead to less feed intake or even fatality in worst cases. This obviously puts broiler farms in a position where production is significantly hindered and system repair costs have to be considered," John added.
With these issues in mind, Hydor is urging farmers to take a proactive stance and conduct a thorough review of all air movement systems ahead of the summer months. A simple check of the motors, fan blades, belts and louvres can help to confirm that all fans are in working order. From here, a detailed audit of the temperature, CO2 and humidity sensors can be carried out.
John continued, "If later-staged fans do need replacing, it is recommended to install already-working 'Stage One Fans' instead of a like-for-like replacement. This way, farmers can look to replace ventilation systems with a more energy-efficient fan from our product range to help drive down running costs in the long term."
"By taking routine steps, farmers can keep ventilation systems at peak performance when they are needed most. It is also just as important for the right solutions to be in place so that conditions are suited for maximum yield while keeping costs to a minimum," John concluded.